Baguettes with butter and Vegan bread
Vegan Mediterranes Brot stone oven-bread with mediterranean herb-crème, with virgin olive oil, ready to bake, type Ciabatta, 250 g
The preparation of that half-baked bread is quick and easy. After just a few minutes of preparing it in the oven, you will enjoy a delicacy that captivates with its taste and aroma.
Remove the bread from the packaging, place it in a preheated oven with the grill in the middle position while heating the top and the bottom to 200°C and bake it for about 10-12 minutes until golden.
MEGGLE Vegan bread with mediterranean herb-creme is a favorite and nutritious food for the whole family. It brings home a taste of the Mediterranean way of life and a feeling of complete relaxation.
New taste with VEGAN certificate!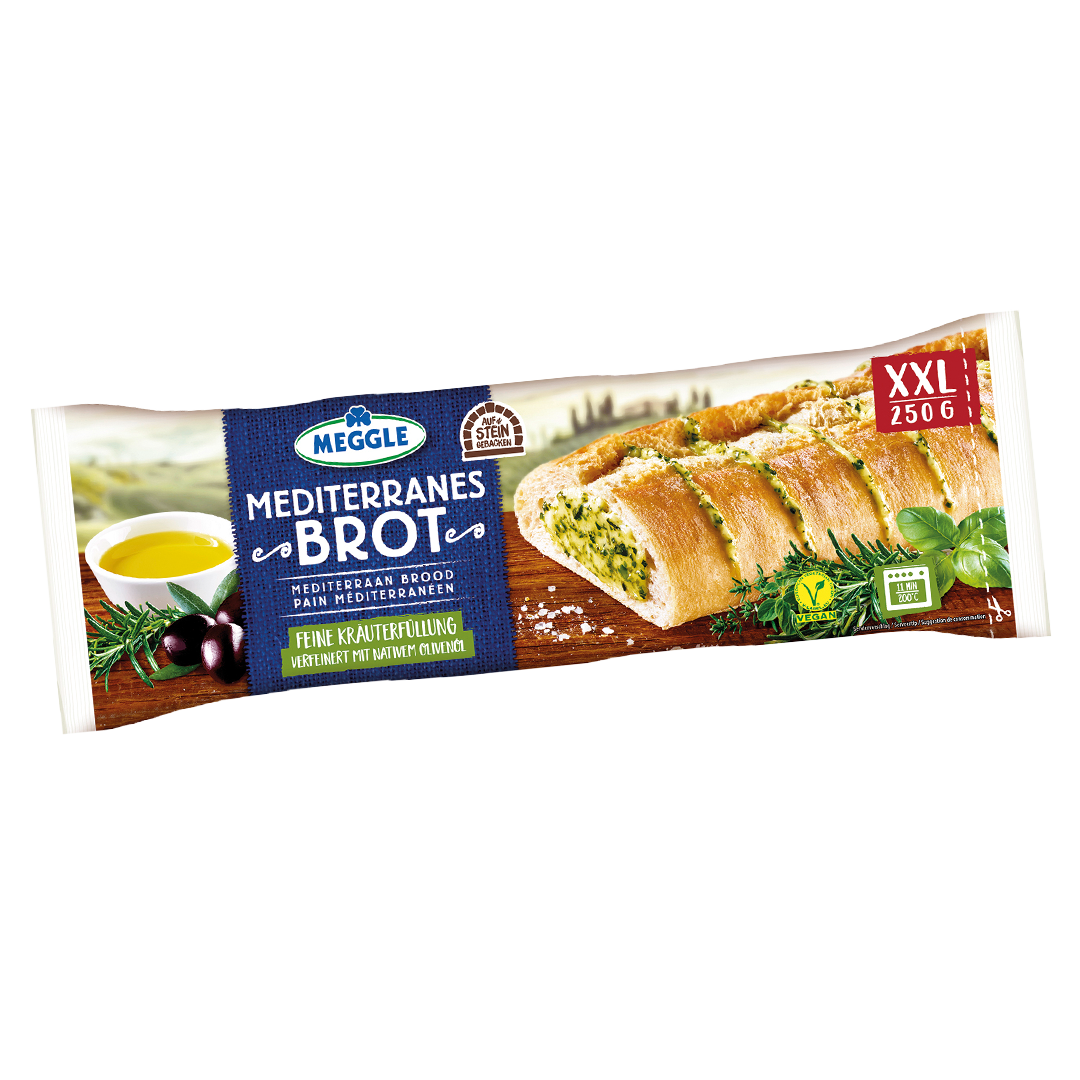 Nutrition facts per 100g:
Energy 1271 kJ/ 303 kcal
Fat 14 g
Saturated fat 1,2 g
Carbohydrates 36 g
Sugar 2,8 g
Fiber 4,4 g
Protein 7,1 g
Salt 1,40 g
*May contains traces of milk and sesame.
Ingredients:
Bread: Wheat flour, water, yeast, salt, rye flour, malted wheat flour, wheat gluten; Mediterranean herbs-crème 20 %: canola oil, water, garlic, virgin olive oil 10 %, herbs (basil, oregano, thyme, rosemary), salt, starch, modificed starch, lemon juice concentrate, natural herb flavouring.
Password protected content! Please enter password.
Other products