Salty dishes
Semelknedli – dumplings made with mushroom sauce
Ingredients:
For dumplings:
» 400 g of bread (from the previous day)
» 3 eggs
» 200 ml MEGGLE milk
»20 g MEGGLE butter
» 2 shallots
» 1 clove of garlic
» 1 tablespoon of chopped parsley
» a pinch of nutmeg
» vegetable soup
» salt
» ground black pepper
» breadcrumbs
For mushroom sauce:
» 150 g of champignons
» 1 onion
» 30 g MEGGLE butter
» 15 g of flour
» 200 ml MEGGLE cooking cream
» 15 ml of lemon juice
» 1 tablespoon chopped parsley
» salt
» ground white pepper
» crumbs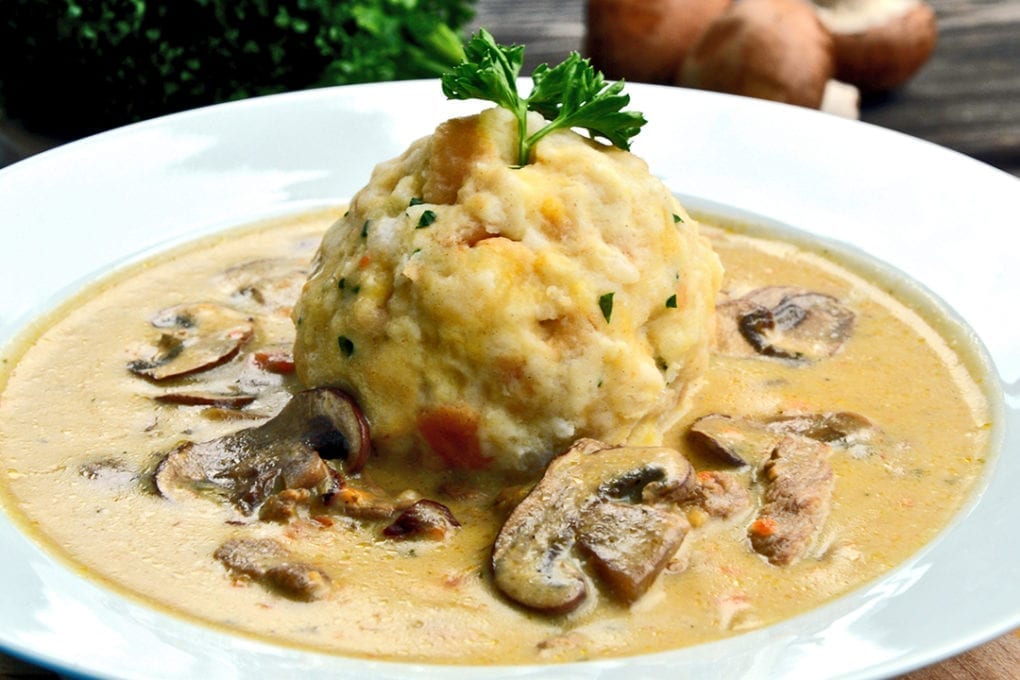 Preparation:
For dumplings:
Cut the bread into cubes, place in a bowl and add salt. In a separate bowl, break the eggs, pour in the milk, stir and pour over the bun cubes. Then mix the ingredients by hand, press a little and leave for half an hour to soak. In a pan, add chopped shallots to the melted butter, add a little salt and fry over low heat until soft. Then add the crushed garlic, chopped parsley. As soon as the garlic smells, remove from the heat and pour over the soaked buns. Then grate the nutmeg, add a little pepper, mix the ingredients, and gently knead the dough with your hands (do not knead, and if the mixture sticks, knead some breadcrumbs). Leave the mixture prepared in this way approx. 15 minutes. Then, with wet hands, shape the dumplings, roll them in breadcrumbs and put them in a hot vegetable stock and cook on low heat for 15 minutes.
For mushroom sauce:
In a frying pan, fry the chopped onion in butter until soft. Then add quartered champignons, lemon juice and simmer for 3-4 minutes. Then sprinkle the ingredients with flour, stir and pour the cooking cream all together until the sauce thickens a bit. Finally, sprinkle the sauce with freshly chopped parsley.
Print recipe
MEGGLE products used in recipe